Digital Asset
Management system

CIERTO

CIERTO is a DAM (Digital Asset Management) system that can easily centralize, organize and share all your digital media files. It also can help you improve your workflow efficiency, saving costs and ensure effective branding management.

SCROLL
Overview of CIERTO
The digital asset management system "CIERTO" centrally manages various data related to sales promotion activities such as images, videos, product information, Adobe production data such as InDesign and Illustrator, proposal materials, and in-house materials, and is related. Enables online sharing between people. Since all production processes can be digitized by producing content with CIERTO at the core, it is possible to realize telework / time saving / work style reform in content production / management / distribution work regardless of the work location.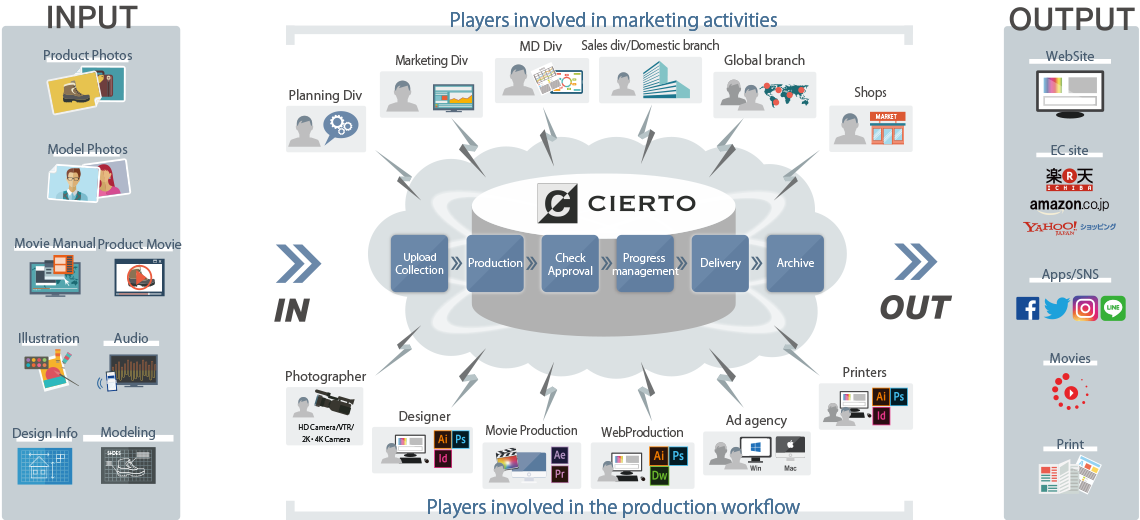 Solution
Data management,
sharing, and utilization

All the images, videos, production data can be centrally managed using web browser. Data searching, checking and sharing tasks can be processed online which can speed up your business process.

Digitalization of
production workflow

All the content creation processes from data receiving, sharing, correction instruction, confirmation and distribution can be performed online. Users can share all the latest information in real-time which can optimize the production workflow.

The fast distribution for
multi-media

Integrated management of the latest product information and product images enable seamless distribution for each media.Accelarate distrubuition by associate with automatic catalog formatting and CMS/EC sites.

Empower
business brand

By properly managing and sharing the permission information associated with the data, you can prevent misuse or unauthorized use of the data. We support the unification of brand image and quality improvement by managing and sharing guidelines.
User Case
More than 300 introduction companies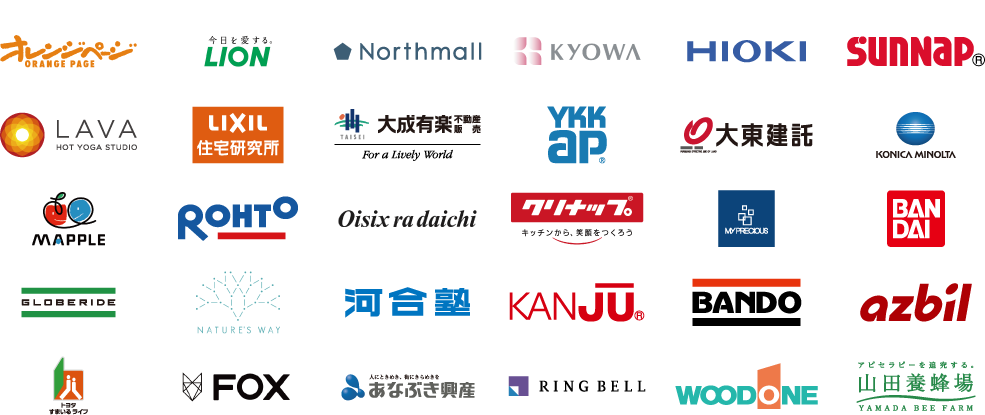 Health Care Industry

Lion Corporation

Build a foundation on which content can be managed and used as an asset to improve productivity in daily operations and strengthen compliance.

Construction industry

TAISEI CORPORATION

Improving the value of data assets and strengthening their utilization realized by building an environment for information sharing platforms.

Housing Franchise

LIXIL Housing Research Institute, Ltd.

By centralized management of data, we have significantly reduced the number of man-hours and waiting time for searching, sharing, reusing and strengthening services for member stores.

Manufacturing industry

Yanmar Global CS Co., Ltd.

Business support for the entire Yanmar Group by managing and sharing approximately 100,000 product materials.
Web-based Asset
management
Manage various data such as images and videos, adobe production data such as InDesign and Illustrator, PDF, Office files with preview on the Web browser.
Features
Online Production Workflow

Since you can proceed with creative production projects online, from receiving a manuscript to Media distribution, you can significantly reduce analog work and visualize the progress.

Product Information Management(PIM)

Not only can you manage text information such as prices and specifications, but you can also centrally manage all content related to products such as product images, videos, catalog data, and instruction manuals.

Branding information management

Realize the capitalization of creative data by appropriately managing and sharing related information related to data such as license information and guidelines. Supports branding enhancement.

Publish to Multimedia

Automates product photo size / format conversion and product information output for EC / website posting. Work efficiency is greatly improved with presets tailored to each site.
Useful function
Full-text Search

User can not only but also search the metadata of files, but also are able to search words or phrases in a PDF/Office/Illustrator document.

Batch search

Import a csv list of searching items to CIERTO to search for multiple files at once, you can collect the searching items at once, this feature is making your assets more easily discoverable.

Keyword search

Create a multiple filter conditions query can help to you get the file you were looking for quickly.

Video scene management and search

You can remark some information on every clip of a video and use the information to search the video you want. It's also possible to save the videos with remarks together in another folder.

Long term data archiving

Automatic scheduled archiving of assets can be implemented.Assets can be stored without effecting the storage capabilities of CIERTO by using the low cost Azure Blob Storage perfect for longterm/large quantity storage.

HTML request action

Integrations with chat tools such as google chat can be achieved and send event notifications of assets, such as uploads.By sending such information to chat tools, users can interact outside of CIERTO, allowing better communication.

Sharing collection

Create a collection of assets and share it with your coworkers, partners or agencies.

Uploading file with metadata

When uploading files such as product photos, you can upload it with product information at same time. This feature can help you organize files efficiently, saving your money and boosting team productivity.
Administration
Log Management

CIERTO can handle event logs and output as a csv file.

Networking ACLs

With the ACL functionality available in CIERTO, you can configure user access control with port numbers or IP addresses

Welcome message

Users can check the welcome message on the dashboard after they logging to the service.

Active Directory (AD) authentication authentication

Integrating LDAP (Lightweight Directory Access Protocol) in CIERTO allows you to better control user authorizations as well as better maintain user accounts.

User Authority Management

You can set access areas and operation permissions flexibly.

Metadata Management

Metadata can be easily created and edited on CIERTO.

Two-factor Authentication

Stronger security for your CIERTO Account. With Two-factor Authentication, you'll protect your account not only with your password, but also with extra authentication factors , include email, authentication code.

SAML authentication support

Supports user authentication using SAML services such as Google Workspace or ADFS.
Pattern
On-premises License contract

Existing resources can be used effectively for CIERTO with a license contract. This means that it can be installed, and used in a preferred infrastructure, such as cloud environments like AWS, Azure, or existing data centers.

Cloud service contract

With the cloud service contract, the "Microsoft Azure" environment is used (The Azure usage cost is included within the service cost). Using the cloud service, it is possible to start small, and gradually control the scale according to the level of production.
Awards
ASPIC IoT AI Cloud Award 2019 ASP SaaS department overall grand prix
Visual Processing Japan received ASPIC IoT・AI Cloud Award 2019 of the ASP・SaaS department overall grand prix. The Grand Prix award is awarded to cloud services that are excellent and beneficial to society in Japan, which is given by ASPIC Japan - a non-profit organization supported by Japan Ministry of Internal Affairs and Communications. CIERTO challenges to new business model such as past introduction record and digital asset management, because of its originality, scalability and social contribution.
Microsoft-certified solution provider (Gold Cloud Platform)
Visual Processing Japan is recognized by the technical ability and the good use of Azure, owns the Microsoft partner network gold competency membership. Microsoft gold competency is awarded to companies that have demonstrated a very high level of expertise and a proven and specialized skill set in a particular technology or service area.