A digital asset management platform helps you improve Creative Workflow and Efficient Brand Management in business activities(PR, Advertising, sales promotion, sales activities).

Digital Asset Management System

CIERTO increases efficiency in content production (PR, Advertising, sales promotion, sales activities) workflow and reduces production costs by centrally managing all data related to content production. At the same time, the ability to centrally manage produced content will ensures maximum value from your digital assets and 100% brand consistency leads to Increased sales.


In the DAM system "CIERTO," the results and innovativeness in Japan are evaluated and win the general grand Prix in the "ASPIC cloud Award 2019" (Supported by Japan Ministry of Internal Affairs and Communications) in recognition of VPJ's achievements and innovative spirit. And selected in "2022 DAM solution provider TOP10" in 2022 by "APAC CIO Outlook".
About ASPIC Cloud Awards 2019
About APAC CIO Outlook
Content production, management, and distribution workflow with CIERTO as the core.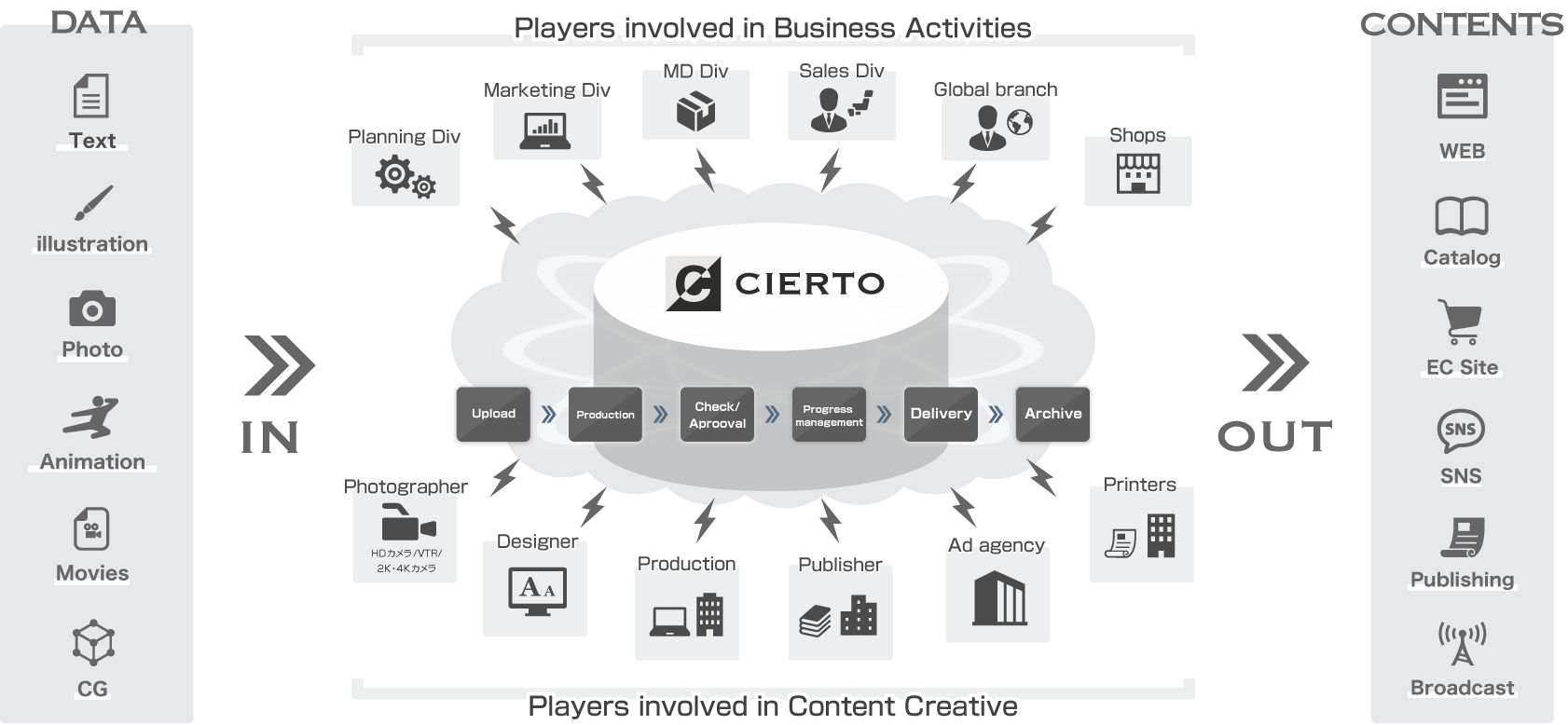 Using CIERTO to help with digital transformation of content production in business activities

In the concept of DAM, Contents are articles, photos, videos, graphics, sounds, etc. that have a meaningful shape as information that constitutes the contents of media. By processing and combining materials, contents will have meaning as information. The best perfrom contents can be reused as materials to create new content or reorganized into different media to increase brand value. So we believe content needs more control than data.
How centralized data management can improve productivity and reduce costs in production workflows?

Normally, there are many stakeholders involved in promotional content creation. All of the assets can be easier accessed and have faster collaboration through centralized data management. Frome sharing, reviewing, changing, to approving, by digitizing your creative workflow, allowing remote teams to function efficiently. Data centrally managed by CIERTO can be converted to different formats and used as a single source for multiple platforms such as the Web, SNS, and catalogs, improving productivity and reducing costs in the production workflow.
How centralized data management can ensure maximum value from your digital assets and lead to Increased sales?

CIERTO can set up access and usage permissions for contents requiring copyright management like logos, and product photos. The system automatically ensures compliance with VI/CI guidelines and contracts, thereby strengthening branding. At the same time, CIERTO can help you promote consistent content across multiple channels, by centralize your brand assets, brands can more efficiently collaborate and deliver a strong, consistent brand presence across all print and digital channels.
Contact
If you have any question, please contact us.
03-4361-2018
Monday-Friday: 9:30 AM – 5:00 PM