Web-based Asset management
A vast number of file types can be managed from the web browser with previews, such as Images, videos, Adobe production data and office documents.The stored assets can be searched anytime anywhere. All functions and workflow operations for managed files can be excecuted from a Web browser as well.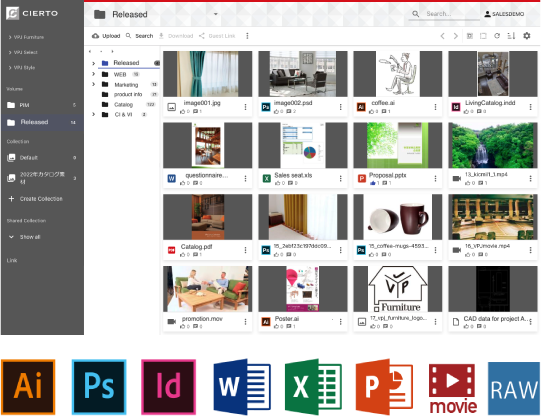 Embedded graphics of Adobe InDesign / Illustrator preview

Not only are previews of multi-paged InDesign, Illustrators available, the files linked can also be extracted and seen.

Office file preview

View previews of Office documents such as Excel, Word and PowerPoint on CIERTO. Previews are supported for multipaged documents as well.

CAD file preview

View 2D (DWG / DFX) format previews on CIERTO.
Video scene management and search
Subtitle files can be imported or exported, and shown during video playback in CIERTO. Searching of assets using subtitle information as targets are also possible. Furthermore, subtitle information can automatically be extracted by integrating with the Azure Video Indexer.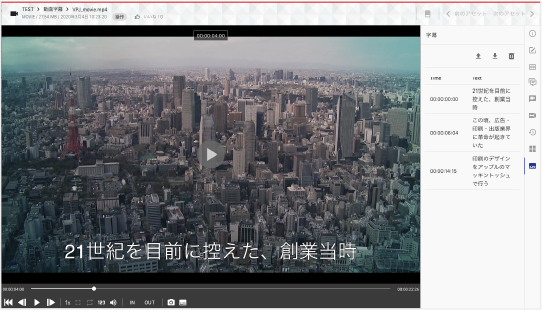 Online production workflow
Adobe application integration (CIERTO Link Option)
Designers will be able to directly access the CIERTO database from their Adobe applications such as Illustrator, Photoshop, and InDesign using the "CIERTO Link" plugin.With this plugin, the files in CIERTO can be accessed from any remote location, and used for production.As the files are directly updated at the same time the designer saves the files, the wait time that was necessary to send files will drastically be reduced.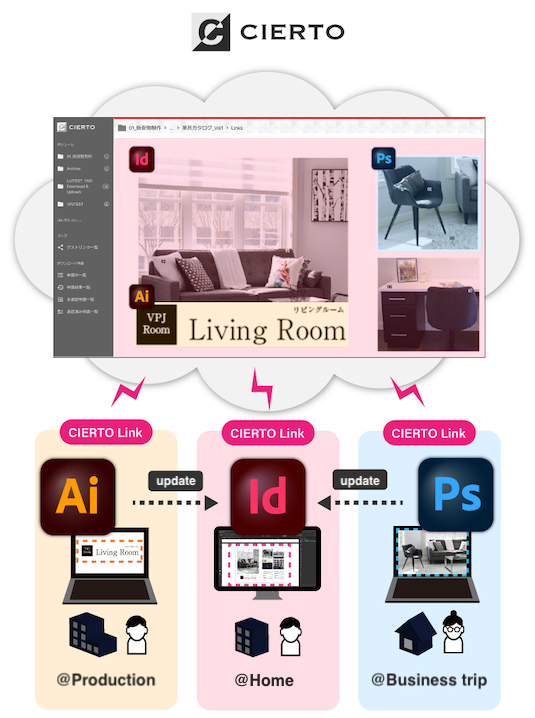 Online Proofing
Annotations can be applied to various file types such as PDF files, images, illustrator files, and office documents using the online proofing option. Text extraction of documents, image attachments to annotations, can be done using one simple pen tool. Comparison of versions can also be done to check the difference between versions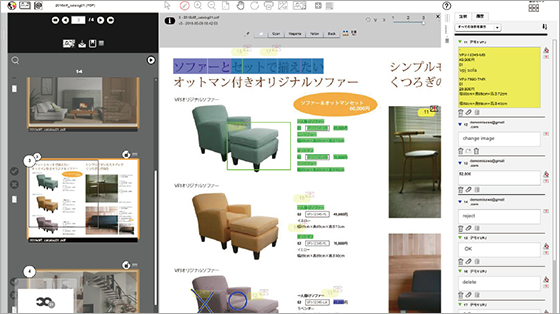 PRINT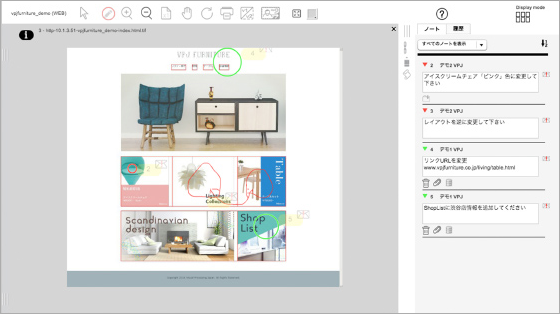 WEB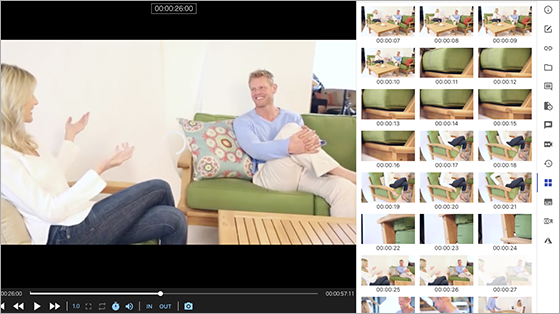 MOVIE
Unlimited guest file sharing
Assets can be shared to any number of guest users who do not have a login account, by sending an access URL with a deadline. It is also possible to apply a password to the link
Guest download

Download links can be shared to allow download of assets for a limited time period.

Guest preview

Preview links can be shared to allow viewing of assets while permitting the guests to download.

Guest upload

A request to upload assets can be sent along with a URL link to the path to upload the assets.
Create contact sheet PDF

Contact sheet PDFs of selected images can be exported along with the metadata. The assets to export can easily be selected from a web browser while checking the previews. With this feature, the sharing and selecting of photographs can be done efficiently.
Product Information Management(PIM)
User can manage related contents such as product information, product names, specifications, prices, product images and videos. When you tag assets with metadata, you then have the flexibility to organize and display assets in multiple ways according to how you have categorized the content. You also have the ability to search for content and find it more easily.

Four solutions for product information management
Optimal product information management for marketing material production

The latest information of assets will allways be aggrigated in CIERTO by gathering the information stored in several departmets such as the product, or marketing department. The misuse of information can also be prevented by managing information such as discontinued products in CIERTO.

Cost reduction & increase productivity with information integration

As the latest information is always available in CIERTO, and there is no need to update several systems, the cost for annotating, or checking the duplicate entry of information can be reduced.

Increse sales revenue by shortening time-to-market

The latest information of products can be deployed faster by creating a system allowing users to access and obtain the Product sales can be improved by strengthening such sales strategies.

Timely and precise multimedia delivery

Product information can be distributed efficiently by integrating EC/CMS systems and catalog typesetting. With this, standardized information can be sent across multiple channels to customers in a timely manner.
Multipurpose template management

User can create multiple templates according to attributes such as products, model photos, in-house documents, and manage data appropriately.

View of product folder

Data related to products such as product images, other cuts, videos, layout data can be managed in one folder.

Batch import /export of metadata

User can export the metadata of assets to a CSV file and also can import the data attribute to CIERTO from a CSV file. It's easy to maintain the system for updating the information of a product and etc. It's also possible to choose the designated item and preset it for a CSV export item.
Branding information management
You can manage the permission information related to the data by associating it, and you can display the watermark and control the download of the unusable data.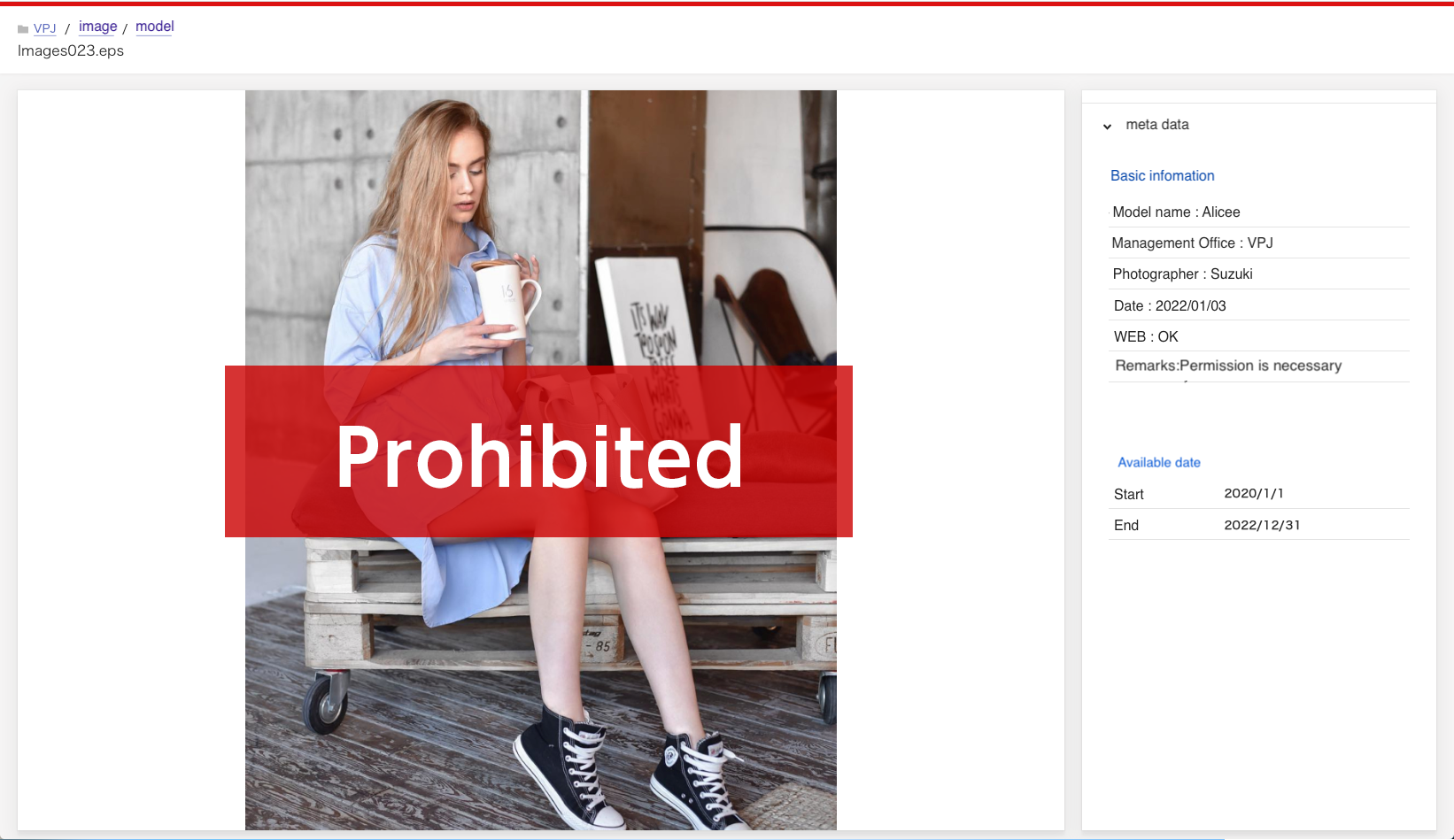 Download management

Automations help move content along the lifecycle based on metadata value. For example, you can control the permission (allow or deny) for users to download files, by using metadata such as data expiration date or check box value (true of false). You also can specify the the permission that allow or deny the user the ability to view original file or file with watermark.
Archive management

Save disk space by deleting the original file from CIERTO, you still can view the preview after removing the original file. It'll reduce disk usage to avoid unnecessary costs for over-usage.

Like! / Asset Comments

Users can express that they like, enjoy or support certain content on CIERTO by press the like button. They also can left comments to contents which is directly representing the liking of the user for a particular contents.

Content usage request flow

Users can request for permission to download assets they do not have permission to, by creating a flow to request, and approve downloads. As this flow can be done though the web, the work necessary to share assets can be reduced.

Automatic hash value display/acuisition of asset files

Proof of assets, and their modifications can be checked easily by obtaining hash values (unique code) improving efficiency in asset management.
Publish to Multimedia
Based on the site standards for product images of ES website, such as Amazon or Rakuten, you can preset the conditions for product image conversion and CSV export items for product information. When select a EC website, product image will be optimized and product information will be extracted to a CSV file according to the settings of each site. Product images and information can be linked and optimized based on each platform, which is helping customer reduce costs of post images online,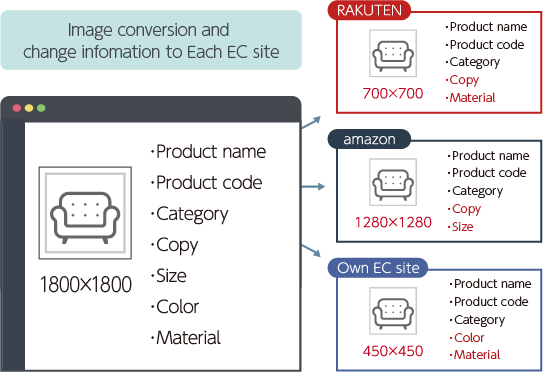 Image conversion/ trimming

Image can be resized or format changed before download.Use freehand trimming to trim part of the image, you also can specify the size before trimming then you will get same height and width images.
Video conversion/ cropping

Video can be converted to any codec format according to the needs of the users. Also, it is possible to specify the in/out timecode to crop part of the video.
CMS integration

It is possible to create content by extracting master data such as product images, product information, and catchphrases managed by CIERTO into CMS. By always using the latest data, content can be delivered and keep on branding without errors. *This feature needs to integrate with other solution.
Video screenshot creation

Screenshots can be taken from videos and saved as png images. Assets can be reused efficiently by taking screenshots of videos and using them in other materials such as websites or marketing documents.